Economy
How and with what to wear a women's cardigan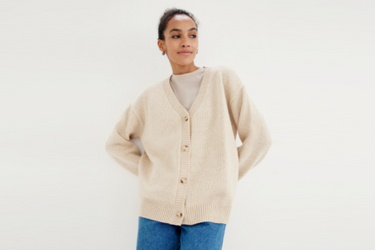 Almost every girl and woman has a cardigan in her wardrobe. This garment is very comfortable and convenient, but few women know what to wear with a women's cardigan so as not to make a mess of things. Our article will tell you how best to combine this wardrobe item to look irresistible.
Cardigan length
All cardigans undoubtedly differ in texture, volume and length. Any of the options can go well with your wardrobe items, you just need to choose the right one.
What to wear with a short cardigan
Short cardigans will add laconicism and English style to your look. Plain trousers, shorts or skirts will be the perfect complement to a cardigan.
Many fashionable girls prefer to wear a short cardigan on a naked body. To make the item look good on the body, the cardigan should be unbuttoned with a couple of buttons. If your trousers or jeans are high-waisted, you can tuck the cardigan into them.
A lingerie top will help to create the effect of femininity and fragility. But this effect can only be achieved if both items are similar in colour.
The most popular combination is a cardigan and a T-shirt or shirt. This option is perfect for creating an office or casual style. If you want to create an impeccable formal style, you should be aware of such important nuances as:
Prefer T-shirts and shirts that do not have any additional decorations or internal pockets.
Choose only solid colours.
It is better to choose a straight-cut cardigan.
To enhance the look, use contrasting colours of the cardigan and shirt.
By following all these small rules, you can easily create great looks for work, gatherings with friends or family.
What to wear with a long cardigan
You can refresh your look with a long cardigan and a white T-shirt. This look will make you look bright and fresh. The bottom can be anything: boyfriends, jeans, trousers.
A long cardigan, like a short one, can create office styles. All you need to do is combine a long cardigan with a light dress, plain T-shirt, shirt or turtleneck.
If you want to refresh your wardrobe and find new outfits, visit d-fashion.com.ua. Here you will find clothes from the ESPRIT brand that will impress you not only with their beauty but also with their quality.